A low temperature coefficient, a favorable spectral response and high efficiency under low light conditions are the reason for excellent energy yields and hence low levelized costs of electricity under most climatic conditions.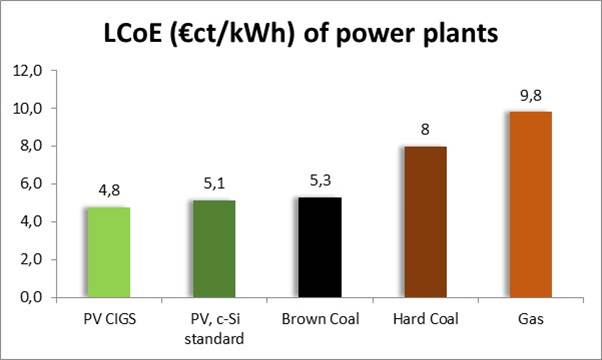 Furthermore, the thin film module design based on monolithic interconnection results in intrinsically reduced sensitivity to shading. Lower temperature coefficients, higher shading tolerance and a good low light performance are also key requirements for building integrated PV applications.
(1) Source: Fraunhofer ISE/ IPA Dec. 2013 "Study for planning and construction of an xGW factory for the production of forward looking PV products in Germany, data calculated for 0.5 GWp / a. Ref. location PV Sevilla / Spain: 1.880 kW / m2*a. Note: in this study, PV costs are projected for products from a GWp fab, the costs for fossile driven power plants are today's.