Today's CIGS production costs are already comparable to crystalline Si albeit at lower accumulated production volume – from 2008 through 2014, roughly 3 GWp CIGS modules were shipped worldwide. This means that CIGS has just started the learning curve typically seen for comparable thin film technologies such as flat panel display or glass coating. Large area deposition and accelerated processing combined with new CIGS facilities have the potential to yield total cost of ownership of 0.40 US-$/Wp even at production capacities as low as 150 MWp/a: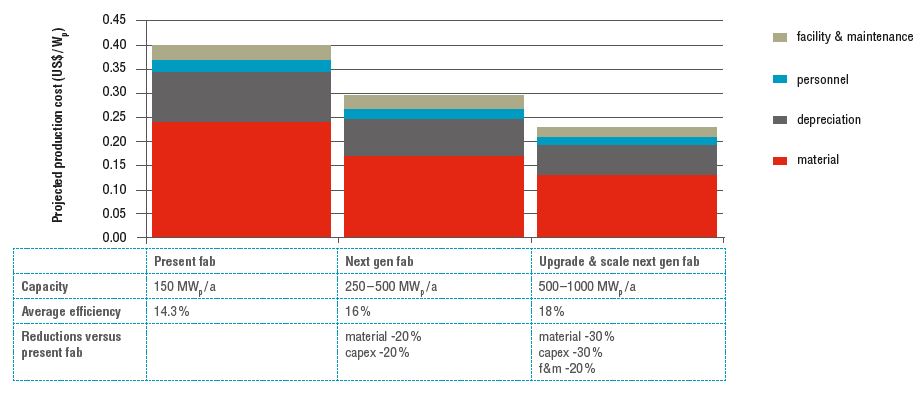 It is important to mention that the capex for thin film modules includes the whole value chain from glass input to the finished module. Given the already low cost level of CIGS today, we see an enormous potential for cost reduction with CIGS technology. The figure above shows the present status and the effects of learning by further scaling and upgrading module efficiencies. Multiple activities are ongoing with the focus to transfer the high-efficiency lab results to production.
Costs will be continuously reduced by improving module efficiency from 14 % up to 18 % (see Evolution of Record Efficiency) and by scaling effects reducing the bill of materials (purchasing large volumes, reducing layer thicknesses and using less pure materials) and capex. Improved productivity by next generation equipment (improved throughput, yield and availability), minimized energy consumption and optimized infrastructure will also contribute to the cost decrease. Summarizing all reduction potentials, and scaling to the multi GWp/a level, CIGS technology will be able to reduce costs by another 25 % up to 40 % within the near term.