CIGS is a stable and proven PV material, with low technology risks for investors. CIGS is a high-performance PV technology, both in terms of relative conversion efficiency and absolute energy yield. There is a long track record for CIGS in both utility-scale and rooftop applications – including in some of the world's most demanding climates.
At utility scale, CIGS PV has a proven track record and has demonstrated superior performance in diffuse light conditions and at high temperatures. Degradation that can occur in high efficiency crystalline silicon technologies does not occur in CIGS modules.
In rooftop applications and when incorporated into the built environment, CIGS has the additional advantage of being aesthetically pleasing, due to its monolithic 'all black' deposition. Architects are increasingly responding to frameless CIGS modules, incorporating them seamlessly into building facades. Beyond electricity production, CIGS modules are a high quality, high value, and attractive building material.
Colored and patterned CIGS modules can also be produced and are ready for incorporation by architects in even the most ambitious and visually appealing building projects.

CIGS is suitable for the production of lightweight, flexible, semi-transparent, and custom-shaped modules. These can be deployed in an incredibly wide range of solar products.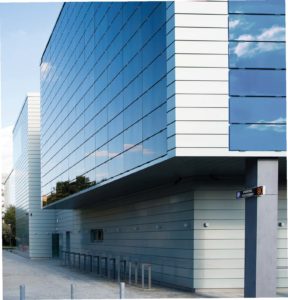 Construction materials such as building facade glass and windows, and fully integrated PV roofing materials are proven applications of CIGS modules. Building-integrated photovoltaics (BIPV) and building-applied photovoltaics (BAPV) may be niche applications today, but they are expected to become common-place in a carbon constrained near future. An estimated 90% of electricity consumption occurs in large cities, making the production of energy on-site both practical and cost effective. In BIPV/BAPV applications, diffuse light conditions, high temperatures, and partial shading are more commonplace than in conventional ground-mounted or rooftop PV applications, making CIGS the best-suited PV technology, in addition to its obvious aesthetic advantages.
Alongside glass, the photovoltaic CIGS semiconductor stack can be deposited onto flexible substrates, such as stainless steel and polyimide films. These can then be incorporated into PV modules that are lightweight, flexible, and robust – ideal for electric cars, buses, trucks, trains, and membrane roofing structures. Flexible mini-modules can also be incorporated into consumer electronic devices, including chargers and accessories – such as luggage and backpacks.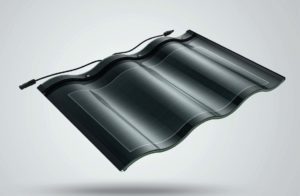 Driven both by regulatory frameworks and economic necessity, PV's ubiquity in the built and lived environment will undoubtedly grow. CIGS is poised to fulfill these applications as they rapidly evolve into mainstream market segments – alongside established rooftop and utility-scale solar arrays.
The proven performance of CIGS technology in conditions of diffuse light, high temperature, and partial shading makes it ideal for a wide range of applications for which other PV materials would be unsuitable.