Over the past two years, CIGS has been the fastest growing thin film PV technology. Driving this uptake is its suitability in a wide range of
applications, but also its compelling cost competitiveness – both in absolute and in relative terms.
Japan's Solar Frontier is currently the largest CIGS producer, with 1 GW of production capacity and 5 GW of modules deployed globally. A wave of new, large-scale investments in CIGS manufacturing from major energy and industrial players is currently underway, primarily in China. Around 600 MW of CIGS production capacity was added in 2018 with expansion plans for multiple gigawatts of production.
Chinese construction materials and engineering company CNBM, electricity equipment supplier Shanghai Electric, and subsidiaries of mining and generation giant China Energy Investment Corporation (formerly Shenhua Group) have made strategic investments in CIGS technology and production equipment. China's Hanergy is currently pursuing a production ramp of around 600 MW of CIGS capacity in both flexible and on-glass formats. In other words the journey to large-scale CIGS manufacturing is well underway.
Currently the most profitable PV manufacturer globally is a thin film PV producer with production facilities in the United States and Southeast Asia – an often-overlooked feature of the global solar marketplace. All thin film technologies share similar intrinsic advantages when economies of scale are realized – including low-cost production, low-material consumption, and fast energy paybacks.
Fully vertically integrated production facilities – glass in, PV module out – can be realized with CIGS technology, resulting in cost competitiveness with crystalline silicon (c-Si) PV at the megawatt scale. When the complete c-Si value chain is considered, including polysilicon, ingot, wafer, cell, and module, CIGS production represents a very attractive investment opportunity in terms of both capex and opex. Additionally, CIGS is well suited to manufacturing with high levels of automation and Industry 4.0 approaches.
CIGS technology has proven to deliver highly stable power output, with the semiconductor stack exhibiting dynamic properties – and as such it can be considered a 'smart material'. Consequently, while other high efficiency PV technologies are prone to degradation, particularly when exposed to light and elevated temperatures, CIGS exhibits an increase in power output after months of light exposure.
Additionally, CIGS technology has a low temperature coefficient, meaning its efficiency does not decrease as quickly as c-Si when in high temperatures – making it ideal for installation in the fast-growing solar markets of the Sun Belt region. Coupled with superior performance in diffuse light conditions, CIGS PV remains a high yield technology even in less than ideal environments.
European production equipment suppliers have established peerless expertise in CIGS tooling and key production processes. Many are currently supplying and profiting from the CIGS manufacturing cycle underway in China today. These European technologists are developing what can be described as next-generation CIGS production processes for the deposition and treatment of the semiconductor stack, which show promise in reducing both capex and opex costs in the future.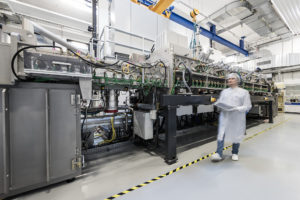 There exists an unparalleled network of CIGS research institutes and endeavors in countries including Germany, France, Switzerland, the Netherlands, Sweden, and Spain – making Europe the leading international center for CIGS technology development. When this fundamental expertise is combined with the established network of advanced production equipment suppliers, Europe has the ideal ecosystem for CIGS technology development – with laboratory developments readily transferable into scale production machinery and solutions.
Feedback loops from local manufacturers, with bidirectional knowledge sharing between lab and fab, could further enhance Europe's leading position in CIGS technology. The stage is set for Europe to take the lead in establishing decentralized, competitive, and energy efficient CIGS production and machinery supply for the new global energy economy.