IW-CIGSTech 8 has been a great success, presenting hot CIGS thin-film solar cell research and industry news to a packed auditorium in Stuttgart, Germany: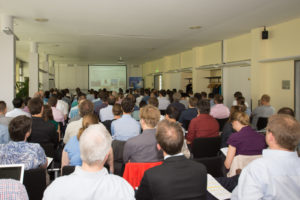 In 2019, IW-CIGSTech 9 will take place on Monday, 18th June, at ZSW Stuttgart, Germany. Participants will be able to attend the workshop and travel on to E-MRS Spring Meeting in Strasbourg, France. E-MRS and IW-CIGSTech have agreed that the CIGS sessions of E-MRS will not be held on Monday.
On the following morning, 19th June, there will be an option to visit Manz AG's CIGS Innovation Line in Schwäbisch Hall.
Both locations are also ideal starting points to visit Intersolar Europe taking place in Munich from 20th through 22nd June.
Further information will be published in due course on the IW-CIGSTech website.